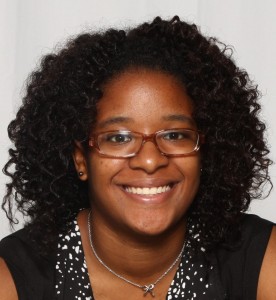 Sharifa Taylor is the 2012 of the  Jamala Rogers Young Visionary Award. She received a $2000 scholarship towards her pre-med studies at Xavier University.
Sharifa is a 2012 honors graduate from Metro Academic and Classical High School. She started PACE, Peers Advocating for Culture and Education, as a support group for African-American students in need of financial, emotional, educational and other supports. Out of PACE came a parent component that allowed parents and other community members to be part of the nurturing and support needed by PACE members. The program was replicated throughout high schools in the St. Louis School District.
The annual Jamala Rogers Young Visionary Award recognizes young adults who are making a difference in their community and ultimately toward the advancement of human rights for all. The award is named after Jamala Rogers, a respected community leader, who has inspired thousands of young people to use their time, talents and skills to uplift their communities in meaningful ways.
Information about the scholarship is available at www.positiveyouthdev.org. Contributions are deductible and can be mailed to P.O. Box 5277,St. Louis, MO 63115.  Donations can also be made at the website.