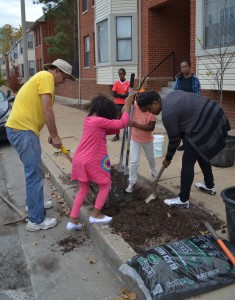 The lesson plan for October 24 was two-fold. We talked about the significance of Vontober (phrased after the police murder of Vonderitt Myers in 2014) as well other police murders of young, black males. The Ma'at was part of the team to plant a tree for Carey Ball, Jr. who was shot 25 times by members of the St. Louis Police Department. An honor student at Forest Park Community College, Ball's life was cut short and his dreams shattered. His family and friends have been fighting for justice for Carey and others who have been victims of police violence.
Ma'at youth also got a lesson in the role of trees in our environment. We received step-by-step instructions as to how to plant a red bud tree. We learned that human life and plant life are important and should be respected and protected.
Our planting crew consisted of Melissa and Pax Krause, Nabeehan Azeez (MORE), members of Ma'at and Mama Jamala.
See photos of the planting on our Facebook page.