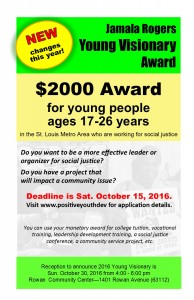 The Jamala Rogers Young Visionary Award serves to recognize and support young people who work for or want to work for racial justice, equality and human rights. Applicants must be between the ages of 17-26 years old and reside in the St. Louis metropolitan area. They are visionaries responding to society's most pressing social, political and economic issues.
The award is named after Jamala Rogers, a long-time respected community leader, who became active in social justice movements as a teen. She has inspired thousands of young people to use their time, talents and skills to impact and transform their lives and their communities in meaningful ways.
Download Application Information Here.                                                              Download Visionay Award Announcement  Here.